We are the connection between success and your business.
Your access to new business.
We are the perfect setting for increase your sales, contact face-to-face new clients from Mexico and Latin America, meet potential buyers from big brands, agencies and advertisers, strengthen business relationships, generate alliances strategic, present products</span > and innovations, position your brand, analyze actions of your competitors, know trends in the sector.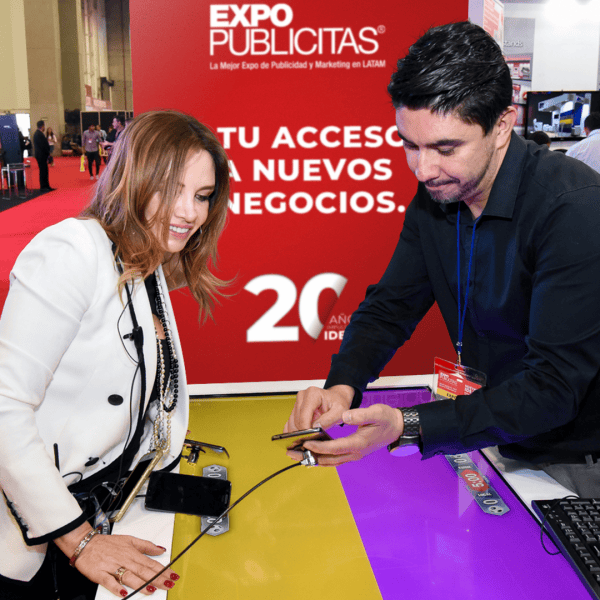 Why participate?
EXPOPUBLICITAS offers attractive solutions to reinforce the success of your participation, and give your business a greater presence.
Visit our 6 Specialized Pavilions where you will find the products and services of your interest.
Visitor's 
Profile
At EXPOPUBLICITAS executives and decision makers meet:
CEO's, CMO's, directors, KAM's, managers and coordinators of the marketing, media and purchasing areas of the most important companies in the country.
Account Managers, supervisors, planners and creatives of advertising agencies and media centers.
SME, Entrepreneurs.
Important advertising distributors in Mexico and Latin America.
Startups.
64%
Has a C-Level position
Alta Dirección
Supervisor / Ejecutivo Sr.
Asistente
Otro
Decide
Recomienda
No participa
75%
Decides or approves the purchase
Dirección
Arte/Diseño
Marketing
Admin
Otras
What else is included?
Reinforce the success of your participation and give your business a greater presence with our
included services

.
Exhibitor Directory
Data of your company in the Printed and Online Directory, 12 months.
Social Media
We share your Innovations to our community.
VIP Invitations
For your special customers.
Do you want to be a SPONSOR?
Highlight your presence and increase your company's branding with the different sponsorships that we have for you: Platinum, Gold, Silver, Exhibition Floor Speaker, Digital.
Take advantage of this unique opportunity to highlight your brand!
Industries that
visit us:
• Aerolíneas.
• Agencias de Medios.
• Agencias de Promoción.
• Agencias de Publicidad.
• Agencias Digitales.
• Agropecuario y Pesca.
• Alimentos y Bebidas.
• Artes Gráficas.
• Artículos e Insumos para Oficina.
• Artículos para el Hogar.
• Asociación, Cámara o Fundación.
• Automotriz.
• Banca.
• Calzado y Cuero.
• Cigarrera.
• Comercializadora / Distribuidora.
• Comunicaciones.
• Consultoría.
• Cosméticos.
• Cuidado e Higiene Personal.
• Deportes.
• Editorial.
• Educación.
• Electrónica y Línea Blanca.
• Energía y Minería.
• Entretenimiento.
• Exposiciones, Congresos y/o Convenciones.
• Farmacéutica.
• Fast Food.
• Finanzas y Seguros.
• Gobierno.
• Hotelería y Turismo.
• Industria Química.
• Inmobiliaria y Construcción.
• Joyería.
• Juguetes.
• Mensajería.
• Mobiliario Comercial o Industrial.
• Música.
• Restaurante o Cafetería.
• Retail.
• Salud.
• Tecnología.
• Telefonía Celular.
• Textil y Vestido.
• Transporte y Logística.